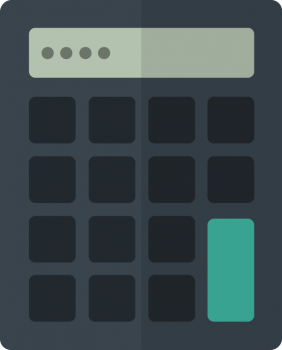 Record and Compare Job Times
RanFab provides free and unlimited seats for shop floor data collection. No more excuses for not knowing why your job took longer than it was supposed to. Use your mobile phone, a printed barcoded job card or our free terminal UI to allow factory staff to clock in themselves and their jobs.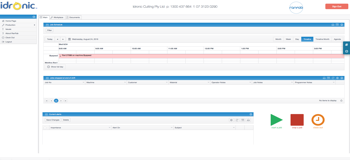 CUSTOM JOB CARDS
Design your own job cards with your own business identity and requirements for an easy transition and learning curve.
UNLIMITED DATA STATIONS
Have a data collection at each work station. No limits are imposed to the number of collection points.
FAST IMPLEMENTATION
Your staff will learn how to use our tools really fast. One single training session is all that is needed.
PUNCH CLOCK
Seamless integrations of punching time cards for payroll. It is so easy that your staff become oblivious to the process.
TROUBLESHOOTING TOOLS
Machine operators can report jobs or internal issues to management directly from the interface provided.
COMPLIMENTARY INTELLIGENCE
Eliminate mistakes with RanFab, which prevents jobs from not being paused or finished when operators clock out.
Job Cards
Multiple designs for job cards suitable for simple parts or complex assemblies. Job data is organised so it's easy to understand and use. Barcodes are standard and can be used with any barcode scanner including mobile devices.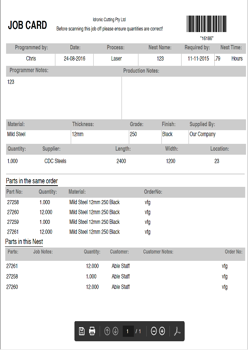 Profile Cutting
The concept of nested profile cutting parts is easily handled by RanFab. Job cards are designed to display all the parts in the nest irrespective of the customer for quick identification and picking of parts.
MRP
Quick allocation of stock for raw materials, spare parts and consumables. Instant linking of inventory items with the purchase order origin and relevant documentation like material certification.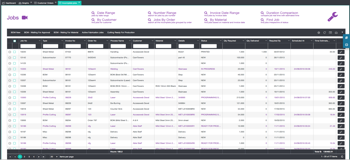 Automatic Schedule
Hands off scheduling built with powerful algorithms capable of understanding not only the required date priority but also the nesting concept. Our schedule takes constant live input from all sections of your business and adjusts itself to reflect the reality of the moment.